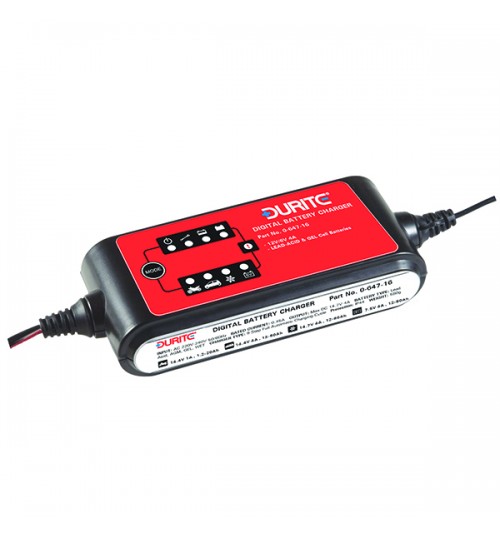 9 Step Full Automatic Digital Battery Charger Maintainer 064716
---
Availability:In Stock

Brand: Durite

Product Code: 0-647-16
---
Automatic battery charger/maintainer for all types of lead acid batteries including wet, MF, AGM and most gel types.
6/12V 4A output.

Features 9-stage charging and micro processor control allowing the unit to be left permanently connected without harming the battery.

Supplied with 3 DC Leads; ring terminals, crocodile clips and a cigarette plug.
Technical Data
Input AC 220V-240V 50/60Hz
Rated Current 0.45A
Output Max DC 14.7V 4A
IP Rating IP44
Bike Charge 14.4V 1A
Car Charge 14.4V 4A
6V Battery 7.5V 4A
Approval
Approval Type
Approval CE IP Rating IP44